I am participating in the 52 Weeks of Organizing Challenge hosted by Laura at Orgjunkie.Com, Project Paper at iheartorganizing, and Organizing Mission Monday at Organize with Sandy.   This week my goal was to organize my finanical files, get ready to file my 2010 taxes and set up my files for 2011.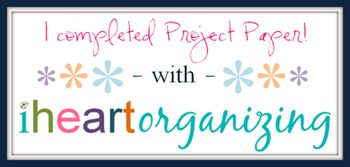 I had a hard time with this week's project.  I procrastinated and procrastinated on taking care of my financial paperwork. 
I even organized a junk drawer to avoid working on this project. 
My goal was to eliminate unnecessary paper and get everything ready to file my 2010 taxes and to set up my file folders for 2011.  Doesn't sound too hard, right?   I finally had to force, and I do mean force, myself to just do it.  I took out every folder and went thru each one and first determine if it was something I needed as backup for taxes or needed to keep for the future.  If it did not fit into those categories then the contents got shredded.   Next, I went thru each folder and determined if it was an expense or deduction and totaled all the items and created a list to use at tax time.  Then I packaged the paperwork for storage.  I collected all the paperwork I needed to save and then packaged it by sealing it using a Food Saver.  This method of packaging reduces the storage size and protects the paperwork from moisture or anything else that might come in contact with the paperwork.   After finishing with the 2010 files I set up the files for 2011.  This involved identifying the folder and setting up the hanging files.  Lastly, I had to file the paperwork that had collected since the first of the year. 
I'm so glad this is done and I won't have to do it again until next year.  Have you organized your paperwork yet?